Through funding from the Kraft Center, the initial Community Care Van was launched in January 2021 to address gaps in care made apparent by the COVID-19 pandemic. The van is now one of three in a fleet across the Mass General Brigham system providing needed services and enabling healthcare providers to meet patients where they're at in historically marginalized and underserved communities throughout the Greater Boston area.
The Community Care Van offers both clinical services as well as risk reduction services. Some of these services include: COVID vaccinations and treatments, hypertension and chronic disease treatments, substance use disorder screening and treatments, social determinants of health screenings, blood pressure screenings, and phlebotomy. The team also screens for Social Determinants of Health to identify barriers and provide assistance connecting individuals with resources. Programs are coordinated through engagement with local stakeholders and community partners allowing our teams to tailor services to the communities that we serve.
The van initiative employs a double equity model which combines public health science and community partnerships. Mass General Brigham partnered with DVP Transportation Inc., an Everett-based company that was hard-hit during the pandemic. The project serves the dual purpose of serving the community while also supporting a local, minority-owned company.
For more information about the Community Care Van and scheduling click here.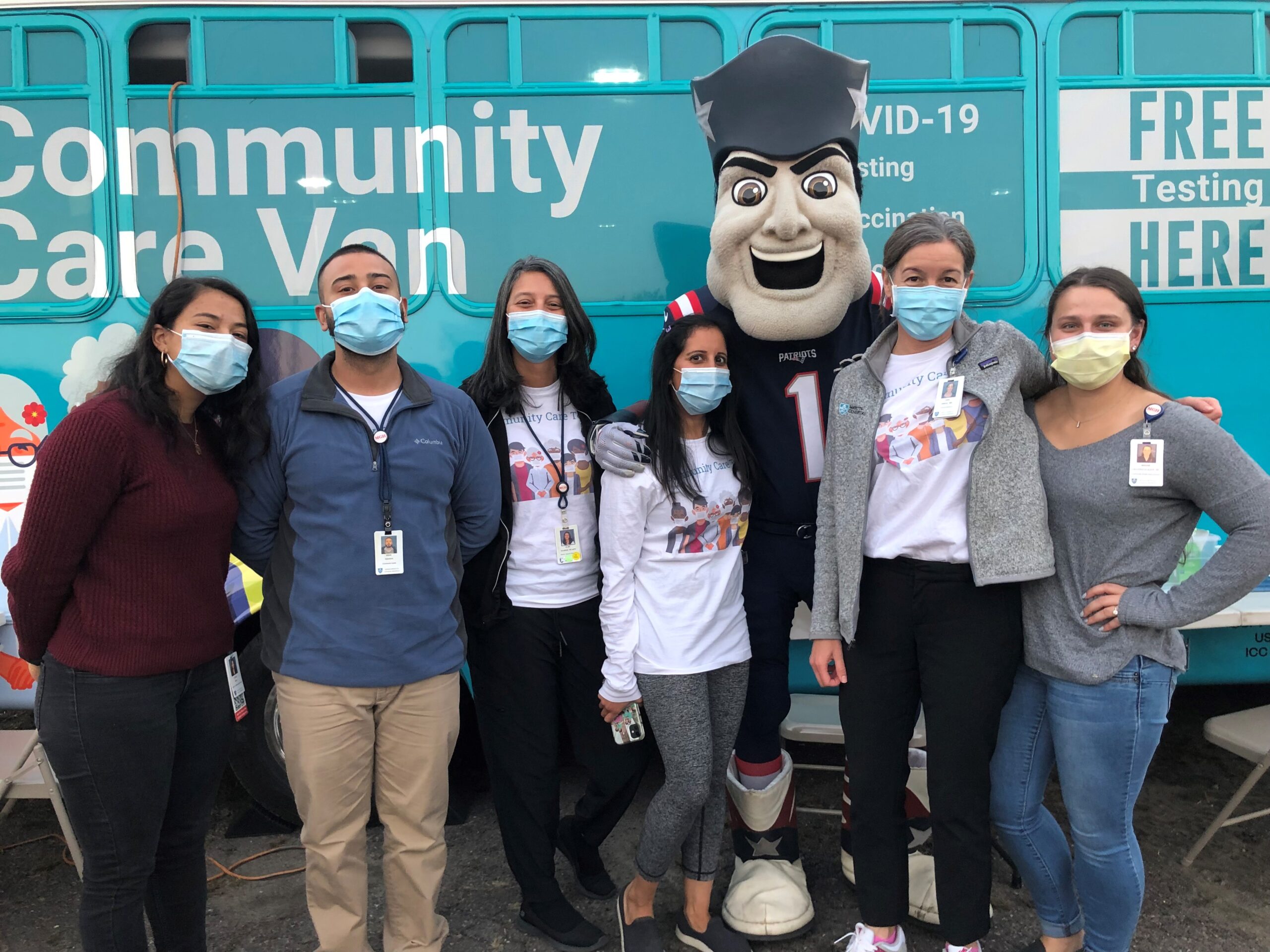 Contact Information – Phone Number: (617) 820-8065
Email Address: mgbcommunitycarevan@partners.org
Community Care Van in the Media
March 8, 2023 – Boston Globe: " 'Bringing the treatment to where they are.' Mobile health vans have bloomed since the pandemic" by Zeina Mohammed 
October 11,2022– Harvard: "Mobile Clinics and COVID Care" by Haley Bridger
December 8,2021– Warpwire: "RADx-UP Grants for Research, Testing, and Community Engagement: Share" by Heather Wilson
December 8, 2021–Warpwire: "RADx-UP Grants for Research, Testing, and Community Engagement with Dr. Priya Sarin Gupta"  by Heather Wilson
October 24, 2021– Boston Globe: "Chelsea, a city hit hard by COVID, has become a vaccination standout" by  Felice J. Freyer, Bianca Vázquez Toness and Diana Bravo
October 18,2021– El Mundo Boston: "A tribute to service in Chelsea" by El Mundo Boston
October 14,2021- Boston News: "Three-quarters of Mass. residents support universal vaccine mandate" by Julia Taliesin
July 13,2021- Boston Globe: "Fireworks Revere Beach Marks 125 Years of First Public Beach"  
July 15, 2021- PBS: "Addressing vaccine hesitancy in Massachusetts' hardest-hit community" by Hanna Ali
July 29,2021– NBC: "Mobile vaccination site set up at Patriots training camp"
July 29,2021– WHDH: "COVID-19 vaccine clinic opens at New England Patriots training camp"
May 25, 2021– MGH: "Mass General Brigham expands mobile vaccination efforts initiative to increase access for vulnerable communities" by Bridget Perry  
May 19, 2021– Vimeo: "Ensuring Equity During COVID-19"
April 12,2021- WGBH: "As COVID Variants Surge, Tracking Where They're Spreading In Mass. Remains A Challenge" by  Craig LeMoult
April 23,2021- CBS: "Robert Kraft & Mass General Hospital Team Up To Create Mobile COVID Services Program For Vulnerable Communities"  
January 30, 2021- NBC: "COVID-19 Testing Vans Take to Streets of Hardest Hit Communities in Mass." by Jeff Saperstone
July 29, 2021- CBS: "Patriots Training Camp Features COVID Vaccine Clinic For Fans"
January 27, 2021–Street Insider: "Mass General Brigham launches community health vans"
January 27, 2021–WCVB: "Mobile unit brings free COVID-19 testing to Mass. communities hardest hit by pandemic" by Matt Reed
January 27, 2021– AP News: "Mass General Brigham launches community health vans"
January 22, 2021- MGH: "Mass General Brigham Launches Community Health Vans" by Bridget Perry