Community Care in Reach®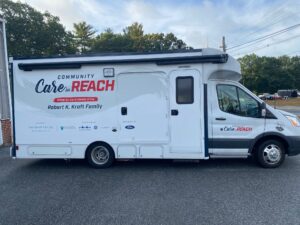 Community Care in Reach®, previously known as CareZONE, is an innovative mobile health initiative that brings together partners in preventive care, addiction services, and harm reduction to serve individuals not well-connected to health care, experiencing homelessness and/or living with addiction.
Using an innovative partnership model, Community Care in Reach combats the opioid epidemic with accessible, on-demand care. In Boston, experienced staff from Boston Health Care for the Homeless Program and the Boston Public Health Commission's AHOPE program provide a range of services on the van and connect patients to community health centers, treatment programs, or specialty care.
Addiction Services: Medications for addiction treatment and referrals to opioid treatment programs & in-patient detox
Harm Reduction: Naloxone, overdose prevention education, risk reduction counseling, and syringe exchange
Preventive Care: Screenings, immunizations, chronic disease management (including hypertension, diabetes, HIV treatment), and referrals to behavioral health, hepatitis C treatment, specialty medical care, and other services based on patient needs and preferences.
To learn more about the program, please watch the video below.
This innovative program was originally launched in Boston in January 2018. In 2020, the Massachusetts Department of Public Health granted funding to four mobile addiction service sites across the Commonwealth, including the original Boston program and two additional Community Care in Reach affiliates. The expansion of the program was also made possible by the generous donation of two mobile units by the Robert K. Kraft Family to the new sites in Worcester and Western Massachusetts as well as ongoing support from our partners at The GE Foundation. A list of each Community Care in Reach site and the program partners.
Program Site
Launch Date
Program Partners
Boston
January 2018
Boston Health Care for the Homeless Program
AHOPE – Boston Public Health Commission
The GE Foundation
Massachusetts Department of Public Health
Ford Motor Company
The Hearst Foundation
Brockton
April 2021
Brockton Neighborhood Health Center
HEALing Communities Study
Western MA (Springfield, Holyoke, Northampton, Greenfield, Chicopee)
Summer 2021
Tapestry
Massachusetts Department of Public Health
The GE Foundation
Worcester
Summer 2021
UMass Memorial Medical Center
Massachusetts Department of Public Health
The GE Foundation
In April 2021, Brockton Neighborhood Health Center officially launched their Community Care in Reach mobile program supported by generous donation of a state-of-the-art mobile medical unit from The Robert K. Kraft Family. Operations costs for the Brockton program are funded through the HEALing Communities Study. See a video of the program launch below.
For more information on Community Care in Reach, please visit our Contact Us page.
The Boston Health Care for the Homeless Institute for Research, Quality & Policy in Homeless Health Care completed an evaluation of the 10-month pilot program in Boston. To read their full report, click here.
Youth & Young Adult Pilot Program
Based on the early success of the Community Care in Reach® initiative, The Kraft Center partnered with the Hearst Foundation, the Grayken Center for Addiction Medicine at Boston Medical Center, Boston Health Care for the Homeless Program, and Bridge Over Troubled Waters to bring mobile addiction services to youth and young adults (YYA) who access addiction services at much lower rates than older populations despite ongoing need. Leveraging the strengths and experiences of each partner agency, this pilot program provides two weekly evening sessions of mobile addiction services sessions for YYA in Downtown Boston. This pilot will conclude in fall of 2021, during which time there will be a robust evaluation to help guide future directions of the project.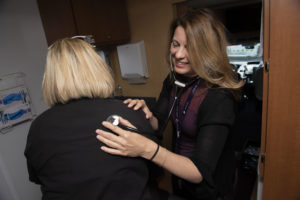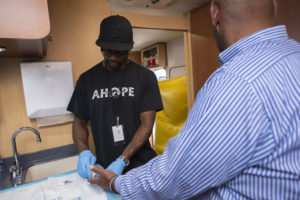 Publications
Community Care in Reach® In the Media
April 30, 2021 – Boston Globe: "Kraft Opens Brockton Mobile Opioid Clinic" by Hiawatha Bray
April 30, 2021 – The Enterprise: "Robert Kraft Helps Bring Health Care 'To The People' of Brockton with Mobile Addiction Unit" by Darvence Chery
April 30, 2021 – 7 News WHDH: "Kraft Family Helps Fight Addiction with New Mobile Medical Center in Brockton" by Brynne Connolly
September 25, 2020 – Mass General Press Release: "New Study Highlights Success of a Mobile Clinical and Outreach Van Helping People on the Street with Opioid Addiction" by McKenzie Ridings
May 25, 2020 – Boston Globe Op-Ed: "Mobilizing Health Care During Coranvirus" by Elsie Taveras, Craig Regis, and Josh Kraft of The Kraft Center
October 10, 2019 – WBUR: "Boston is Using a Chemical Warfare Device to Help Fight Fentanyl" by Martha Bebinger featuring Community Care in Reach® partners at AHOPE and RIZE Massachusetts
August 22, 2019 – NPR′s Here & Now: "Opioid Treatment Van Makes Rounds in Boston" by Martha Bebinger
June 12, 2019 – WBUR: "The Van Vs. An Opioid Addiction: Taking Treatment to the Streets" by Martha Bebinger
January 9, 2018 – WBUR: "Mobile Health Van Aims To Treat Addiction On The Streets" by Deborah Becker
January 9, 2018 – NBC 10 Boston: "Pats Owner Funds Opioid Addiction Service Van"
January 9, 2018 – Boston Globe: "Kraft-Funded Van Will Bring Addiction Services to City Streets" by Jon Chesto
Mobile Addiction Services Toolkit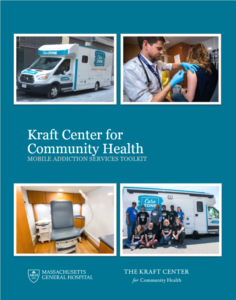 The Kraft Center has developed a Mobile Addiction Services Toolkit which provides a comprehensive overview of how to launch an operate a mobile addiction program following our Community Care in Reach® model. Included are sample protocols, best practices, and lessons learned over the course of our experiences with our own mobile health program.  To access the toolkit, please click here.